Graco Park and Building Design:
Get Involved
The Minneapolis Park and Recreation Board welcomes you to the engagement page for the Graco Park design process. This is the second round of community engagement for the park design concept. An archived page of the first round of community engagement and project background information can be found HERE. The first round of community engagement, the project launch, occurred June-July, 2021. Below you will find a summary of the public comments from these engagements as well as an overview of the project to date. Based on the initial feedback from the community and the site opportunities and constraints, three distinct design concepts for Graco Park are presented below. Please review each concept and comments on what you like and/or don't like from each concept rather than select a preferred concept. Feedback will be used to generate a refined concept that will incorporate elements from all three designs that will be shared out with the public in late fall of 2021.
Online Survey: Scroll down to find images and information about the project and concepts, along with prompts to share your thoughts and opinions. All submitted ideas and comments will be documented and considered as designs for the project are developed. The survey will be open until October 1, 2021.
In-Person Event: Share your thoughts in person at Graco Park on Sunday, Sept. 12, 3-5 pm. Look for the MPRB tent and table!
Virtual Conversation: Join MPRB staff and community members for an online open house on Tuesday, Sept. 14, 4:30-6pm. Use the Zoom link below to join:
Graco Park Zoom Link (Meeting ID: 883 7023 0432)
Down the road: a third round of engagement will occur this fall with another survey and additional in person engagements to share out a final park and building design concept for feedback. Sign up to receive email updates on the project and invitations to future engagement opportunities on the MPRB project page.
Project Overview
Anticipated Schedule
Below is the anticipated project timeline and process overview. The third round of community engagement as well as the approval of a final concept and building design is expected to occur this fall, contract bidding in the spring 2022, and construction is anticipated to begin in the summer of 2022.
Round 1 Engagement Summary
The first round of community engagement occurred June 7-July 7, 2021. During the first round of engagement, MPRB The first round of community engagement occurred in June-July, 2021. During the first round of engagement, MPRB met with over 100 potential park users across several engagements and collected over 170 comments through an online survey. Engagements included: Neighborhood meetings, Pop-Ups in Graco Park, a Project Advisory Committee (PAC) meeting, a Technical Advisory Committee (TAC) meeting, a virtual Public Open House, intercept interviews in the park, and a Youth Engagement Bus Tour with 60+ youth.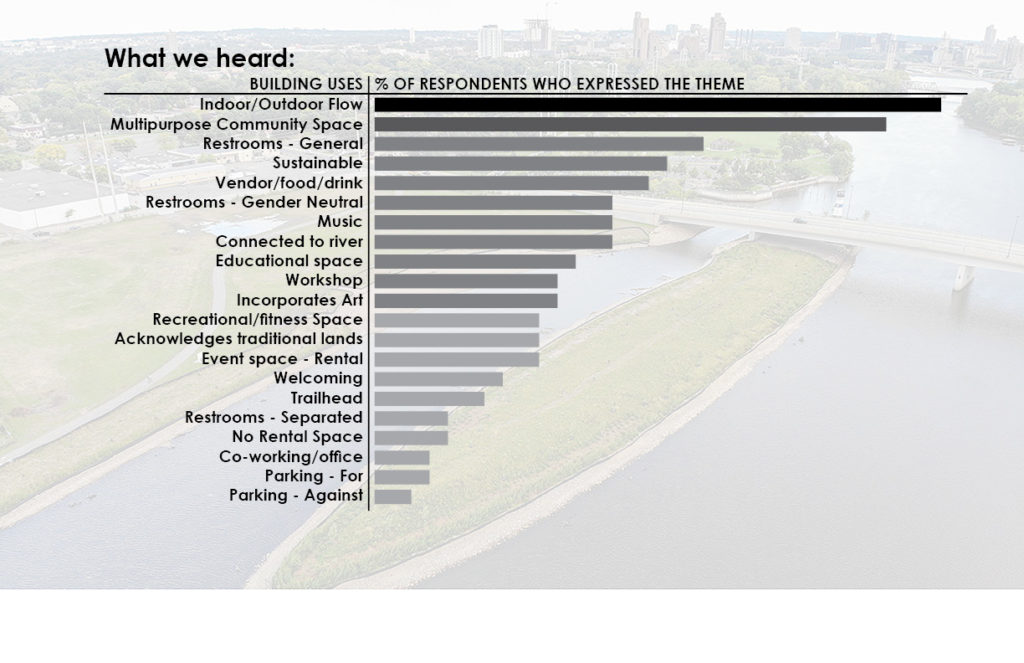 Opportunities & Constraints
The map below identifies some important considerations for the design of Graco Park such as the existing cultural, physical, and ecological conditions of the site and it's surrounding context. These opportunities and constraints include connections to existing trails and infrastructure, viewsheds to the Minneapolis skyline and Hall's Island, and flood risk.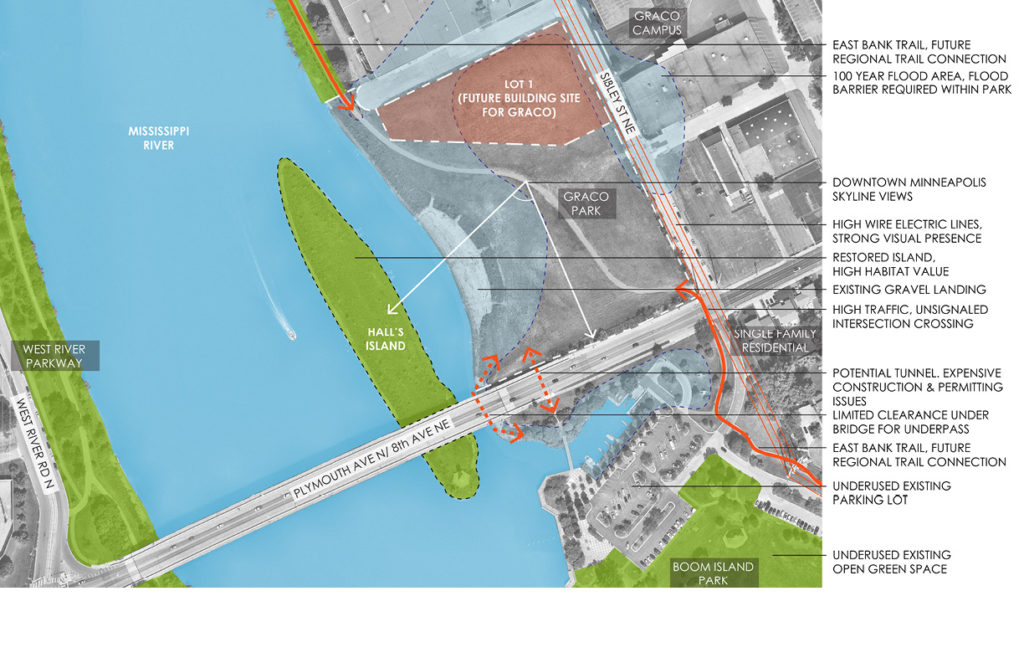 Online Whiteboard
Please click into the box below to access the Miro board for Graco Park. This online whiteboard allows users to place sticky note comments directly on the concepts and view other users' comments. Please be respectful of the online space and read the instructions at the top of the board before posting! Click HERE to access the Miro board directly.
---
For questions, contact MPRB Senior Planner Carrie Christensen at 612-230-6540 or cchristensen@minneapolisparks.org.
---